Celebratory Collector's Edition and Triple Vinyl Soundtrack unveiled for LKA's Highly Anticipated Psychological Thriller 'Martha Is Dead'
Tue 25 Jan, 2022
---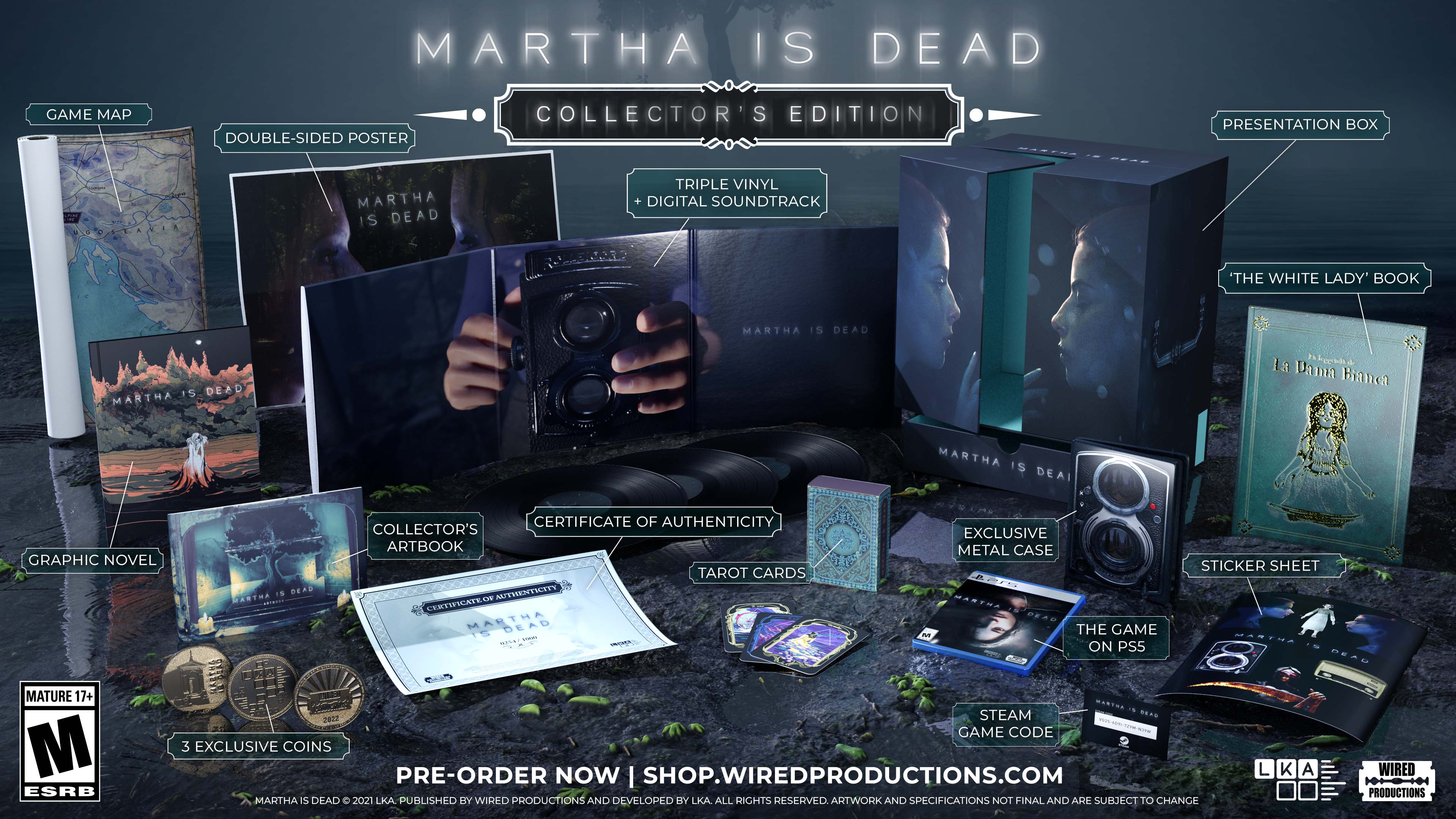 PlayStation and GOG Digital Pre-Orders go live, with LKA's 'The Town of Light' as instant download
Watford, UK, January 25th, 2022: Global video games publishing label, Wired Productions, and leading Italian studio, LKA, are excited to unveil a special, physical 'Collector's Edition' of highly anticipated psychological thriller Martha Is Dead for PlayStation 5, available in early 2022.
The PlayStation 5 exclusive Collector's Edition – which will be sold in limited quantities, with only 1,000 units set to be produced – is available to pre-order now for the UK and European markets exclusively via the Wired Productions Store with an SRP of £125.00. In North America, players will be able to pre-order from 8th February, via Limited Run Games with an SRP of $165.00.
"We've been so enthused by the positive reaction to what we've shown of Martha Is Dead so far, we're happy to be able to offer those dedicated fans this incredible celebratory package," offers Luca Dalco, Founder & Director, LKA.
Immerse yourself in the game's deeply atmospheric soundtrack with a unique coloured variant of the triple Vinyl Soundtrack, which is available to purchase separately to the Collector's Edition. Available in strictly limited quantities, with only 500 copies produced, pre-order is now available via the Wired Productions Store, with an SRP of £50.00, for the UK and European markets. For North American customers, pre-orders will go live from 8th February, via Limited Run Games with an SRP of $65.00
In addition, PlayStation and GOG digital pre-orders are now live, – players pre-ordering Martha Is Dead on PlayStation Store, or PC via GOG, will receive LKA's award-winning first game, 'The Town of Light' – as an instant free download. 'The Town of Light' is set in the same universe as Martha is Dead, and shares LKA's passion for creating deep and dark multi-layered narratives, which they have continued with Martha Is Dead.
Built in Unreal® Engine 4, Martha Is Dead combines real-world locations, working in links to historical events during the latter stages of World War II, superstition, folklore, and deep psychological distress. The game opens in the depths of the Italian countryside as Allied and Axis forces turn the nation into a pincered playground.
The Collector's Edition includes:
The deeply evocative Original Game Soundtrack to this stunning game on Triple Vinyl with gatefold sleeve, including digital download copy.
A physical copy of Martha Is Dead on PlayStation 5.
Exclusive Metal Case featuring special artwork.
Hardcover Collector's Artbook, showcasing an exclusive collection of artworks from the game.
'The White Lady' book – recount the haunting tale of 'La Leggenda de La Dama Bianca', as told in the game.
Graphic Novel – discover events that precede this dark psychological thriller.
Tarot Cards – A full set of 22 exclusive Tarot Cards with unique artwork, as seen in-game.
Limited Edition Collector's Coin Pack.
Double-sided poster featuring iconic artwork from the game.
Game Map, showing key game locations.
An exclusive sticker sheet.
Stunning Presentation Box.
Individually numbered Certificate of Authenticity.
A bonus digital copy of Martha Is Dead for the Steam Store.
"This Collector's Edition is a celebration of Martha Is Dead, and the talents of the award-winning studio behind it, LKA," offers Leo Zullo, Managing Director, Wired Productions. "It's also something we love doing with Wired games – giving fans the opportunity to pick up the consummate, content-packed, physical products. We wanted to celebrate the amazing work Luca and his team have done, as well as to offer Martha Is Dead fans the full Collector's Edition treatment."
Martha Is Dead will launch on PC, PlayStation 4 & PlayStation 5 and the Xbox family of devices on Thursday 24th February, 2022.  Gamers can pre-order their copy today via shop.wiredproductions.com or find a retailer via Wired's Where to Buy section. PC players can also WishList the game on Steam, or pre-purchase for 10% off on Epic Games Store.
The game is recommended for an adult audience and is rated ESRB M (Mature), PEGI 18 and USK 16. It is not recommended for players who may find depictions of mature scenes containing blood, dismemberment, disfigurement of human bodies, miscarriage and self-harm disturbing.
For more information, follow Wired Productions on Twitter or join the official Discord.
ABOUT WIRED PRODUCTIONS
Wired Productions is an independent video games publisher based in Watford, UK. Wired has produced and published award-winning titles across all major platforms and its games are curated to deliver on its mantra: 'Driven by Passion.' Bringing games to market in both physical and digital media, notable launches to date include The Falconeer, Those Who Remain, Deliver Us The Moon, Close to the Sun, GRIP: Combat Racing, Victor Vran: Overkill Edition, Max: The Curse of Brotherhood and The Town of Light. Recently, Wired Productions announced its upcoming slate of titles during Wired Direct. Upcoming titles include Lumote, Arcade Paradise, Martha Is Dead, Tin Hearts, Tiny Troopers: Global Ops and The Last Worker.
Join the Wired community via: Wired Live| Twitter | Discord | YouTube | Twitch
ABOUT LKA
LKA is a leading and award-winning video games studio based in Florence, Italy. Founded more than 20 years ago and specialising in artistic production across media, LKA's debut video game The Town of Light received critical acclaim, including a Drago D'Oro award for Greatest Artistic Achievement. Martha Is Dead, LKA's upcoming release continues the studio's signature multi-layered narrative style combined with real world locations, and will release in 2021.
Martha Is Dead is co-funded by the European Union through the Creative Europe Programme.