Light up the world in 2022 as Lumote: The Mastermote Chronicles releases early next year on Nintendo Switch, PC, PlayStation 4 and Xbox One
Thu 16 Dec, 2021
---
Meet unlikely hero Lumote – the super cute, super squishy, bioluminescent creature, in this brand-new beautiful 3D puzzle platformer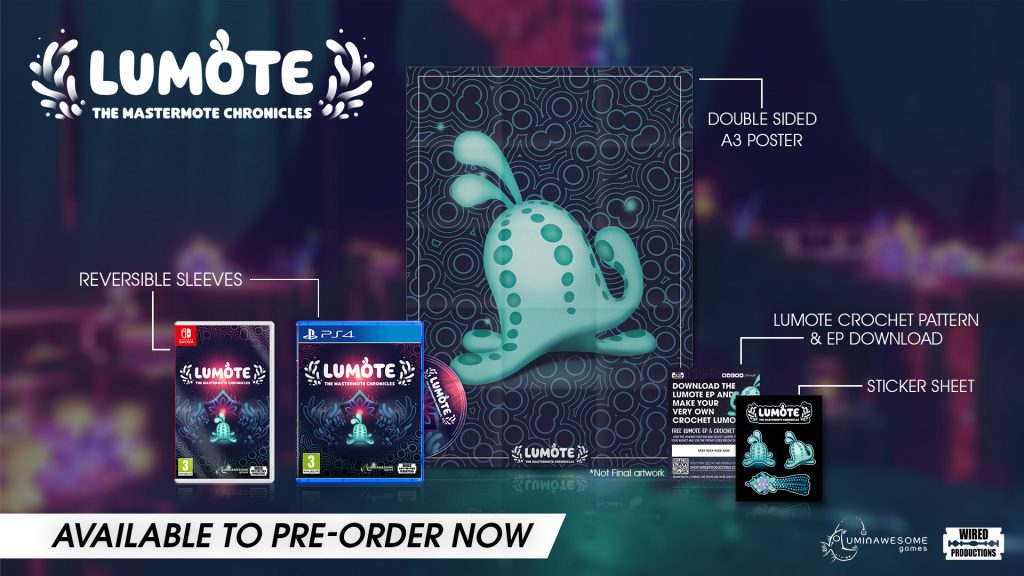 Watford UK, December 16, 2021. Global video games publishing label Wired Productions and developer Luminawesome Games Ltd. are delighted to announce that Lumote: The Mastermote Chronicles is coming to Nintendo Switch, PC, PlayStation 4, and Xbox One early 2022. What started originally as a project to support Luminawesome in releasing a final version of the early access PC game, simply called Lumote, has expanded to not only finish the critically acclaimed release, but also deliver additional story, create a whole new game world and add a new level of challenges, puzzles and collectibles.
Watch the new trailer here:
Wired Productions is also pleased to announce a limited physical release for the title. Available via the Wired Productions Store and select retailers, each limited release copy of Lumote: The Mastermote Chronicles on the Nintendo Switch and PlayStation 4 will include a double sided folded poster, reverse inlay, a unique set of stickers featuring the bioluminescent hero, plus a digital download for the Lumote EP, and if that wasn't enough, instructions to crochet your very own Lumote.
"Michelle Rocha, Kyle Rocha, Arn and Paul Ruskay from Luminawesome are potentially some of the most passionate and creative developers I've worked with." Said Neil Broadhead, Head of Marketing at Wired Productions. "For Wired to be able to support the team in releasing a project they first started on in 2015 is something we are greatly enjoying, and with the further development to create The Mastermote Chronicles alongside the physical release, we truly feel we have a great edition that celebrates what Luminawesome have achieved."
Lumote: The Mastermote Chronicles sends players to the underwater-like neon world of The Great Depths filled with all sorts of shapes, colours and underwater inhabitants while exploring as the squishy hero, Lumote. Lumote must possess, jump, and think its way through a world of puzzles. To aid in the quest, Lumote's ability to possess Motes will help reach areas not normally accessible. For every puzzle Lumote completes opening flower gates, it is one step closer to finding Mastermote!
Lumote: The Mastermote Chronicles launches early 2022 on Nintendo Switch, PC, PlayStation 4, and Xbox One. The physical release will be available on PlayStation 4 for €19.99 / $19.99 / £15.99 and Nintendo Switch €29.99 / $29.99 / £24.99.
For more information, visit
https://wiredproductions.com/games/lumote/
For preview code and interview requests, please contact:
Tegan Kenney
press@wiredproductions.com
Dead Good PR for Wired Productions
wired@deadgoodmedia.com
About Wired Productions
Wired Productions is an independent video games publisher based in Watford, UK. Wired has produced and published award-winning titles across all major platforms and its games are curated to deliver on its mantra: 'Driven by Passion.' Bringing games to market in both physical and digital media, notable launches to date include The Falconeer, Those Who Remain, Deliver Us The Moon, Close to the Sun, GRIP: Combat Racing, Victor Vran: Overkill Edition, Max: The Curse of Brotherhood and The Town of Light. Recently, Wired Productions announced its upcoming slate of titles during Wired Direct. Upcoming titles include, Lumote, Arcade Paradise, Martha Is Dead, Tin Hearts, Tiny Troopers: Global Ops and The Last Worker. Join the Wired community via: Wired Live| Twitter | Discord | YouTube |Twitch
About Luminawesome Games Ltd
Luminawesome's humble beginnings came from winning an unreal game jam with the initial concept of Bump, which Kyle and Michelle Rocha fell in love with and developed into Lumote. Originally from Cambridge, Ontario, Kyle was recruited by United Front Games to work on Sleeping Dogs. With an ethos of being environmentally friendly and green, this is brought out in the game showing their own creative twist on an underwater world.