"Wash, Profit, Rinse, Repeat!" The Doors to your very own Arcade Paradise Open on 11th August, 2022
Thu 30 Jun, 2022
---
Official Discord Launches Today Ahead of Limited Closed Beta Alongside Making of Arcade Paradise Series 'Insert Coin'
Watford, UK, June 30th, 2022 – Publisher Wired Productions and award winning independent studio, Nosebleed Interactive, can today confirm that 90's arcade and light-management sim c-c-c-combo game, Arcade Paradise, will launch on Thursday, August 11th, 2022. 
Featuring voice-over from Doug Cockle, best known for his award winning portrayal of Geralt in The Witcher game series, relive 90's gaming nostalgia by turning the King Wash from a dreary laundromat to the ultimate Arcade Paradise. The brand new 'The Grind' trailer, linked below, showcases the unique gameplay loop and reveals how managing profits, grinding through (fully gamified) mundane chores, & collecting coin to reinvest, allows players to expand their very own arcade empire. 
Watch The Grind Trailer: 
The exclusive Arcade Paradise Discord launches today, home to dedicated content that cannot be found anywhere else. Eager arcade fans who join today will have the opportunity to register for a limited closed BETA in the coming days, with full access to speak directly with the developers, Nosebleed Interactive. 
A brand-new making of Arcade Paradise documentary 'Insert Coin' also launches today, offering a unique perspective on the development of the old-school 90's adventure game, whilst closely following its production leading up to launch on August 11th, 2022. Featuring  the development team behind Arcade Paradise, Nosebleed Interactive, Episode One 'In The Back Room' and Episode Two "Building An Arcade" are live now to watch on the Wired Productions Youtube Channel.
"We are thrilled to continue working alongside Nosebleed Interactive on a title which is really the ultimate nostalgia-inducing game for any kid who grew up in the early 90's." Said Leo Zullo, Managing Director, Wired Productions. "It is so satisfying  to have been involved in the initial concept of Arcade Paradise with the team, who have taken the grain of an idea and have smashed it out of the park!" 
"I'm extremely proud of our team, who have worked incredibly hard to help make Arcade Paradise the dream game for old school arcade and indie game fans alike." Said Andreas Firnigl, CEO and Founder of Nosebleed Interactive. "This is the biggest game we have ever created as a studio so we simply cannot wait to share Arcade Paradise with the world."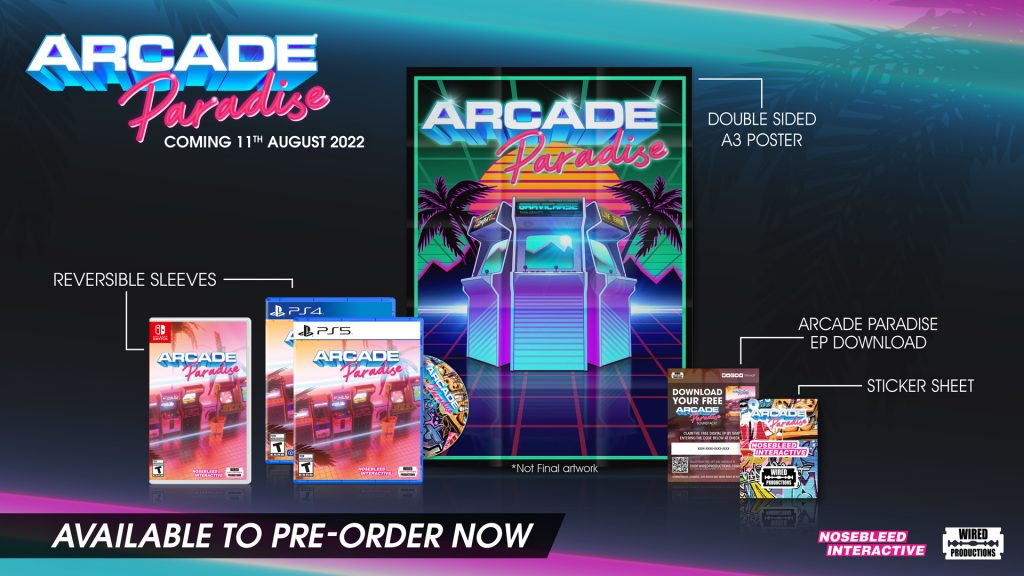 Pre-order the physical version, packed with a folded double-sided poster, graffiti sticker set, reversible inlay sleeve and digital EP download. Priced at £19.99 / $24.99 / €24.99 for the PlayStation copies and £24.99 / $29.99 / €29.99 for Nintendo Switch, players can secure their copy via the Wired Store or from their local retailer. 
Arcade Paradise will be releasing for PC, PlayStation 5, PlayStation 4, Xbox Series X|S, and Xbox One on August 11th, 2022. 
For more information, visit https://wiredproductions.com/games/arcade-paradise/, follow Arcade Paradise on Twitter, join the Official Discord, and wishlist on Steam. 
Download all assets via: https://media.wiredproductions.com/
Request Review Code via: https://requestkey.net/y4u7zm
PR Contacts:
Renaissance PR 
Stefano Petrullo | stefano@renaissancepr.biz 
Greg Jones  | greg@renaissancepr.biz
Gabrielle Hibberd | gabrielle@renaissancepr.biz 
Wired Productions 
Tegan Kenney & Anastasia Denisova | press@wiredproductions.com  
###
About Wired Productions
Wired Productions is an independent video games publisher based in Watford, UK. Wired has produced and published award-winning titles across all major platforms and its games are curated to deliver on its mantra: 'Driven by Passion.' Bringing games to market in both physical and digital media, notable launches to date include Martha Is Dead, The Falconeer, Those Who Remain, Deliver Us The Moon, Close to the Sun, GRIP: Combat Racing, Victor Vran: Overkill Edition, Max: The Curse of Brotherhood and The Town of Light. Recently, Wired Productions announced its upcoming slate of titles during Wired Direct. Upcoming titles include Lumote: The Mastermote Chronicles, Arcade Paradise, Gori: Cuddly Carnage, Tin Hearts, Tiny Troopers: Global Ops and The Last Worker.
Join the Wired community via: Wired Live | Twitter | Discord | YouTube | Twitch
About Nosebleed Interactive
Nosebleed Interactive is a multi-award-winning independent studio based in Newcastle upon Tyne, in the heart of the North East of England. After critical hit Vostok Inc., Nosebleed are working Arcade Paradise as their next hit title.