Wired Productions announces six titles for stacked PAX East line-up
Thu 31 Mar, 2022
---
Get first public hands-on with The Last Worker, an unannounced title and more; indie publisher hosts live recording of Wired Unplugged Podcast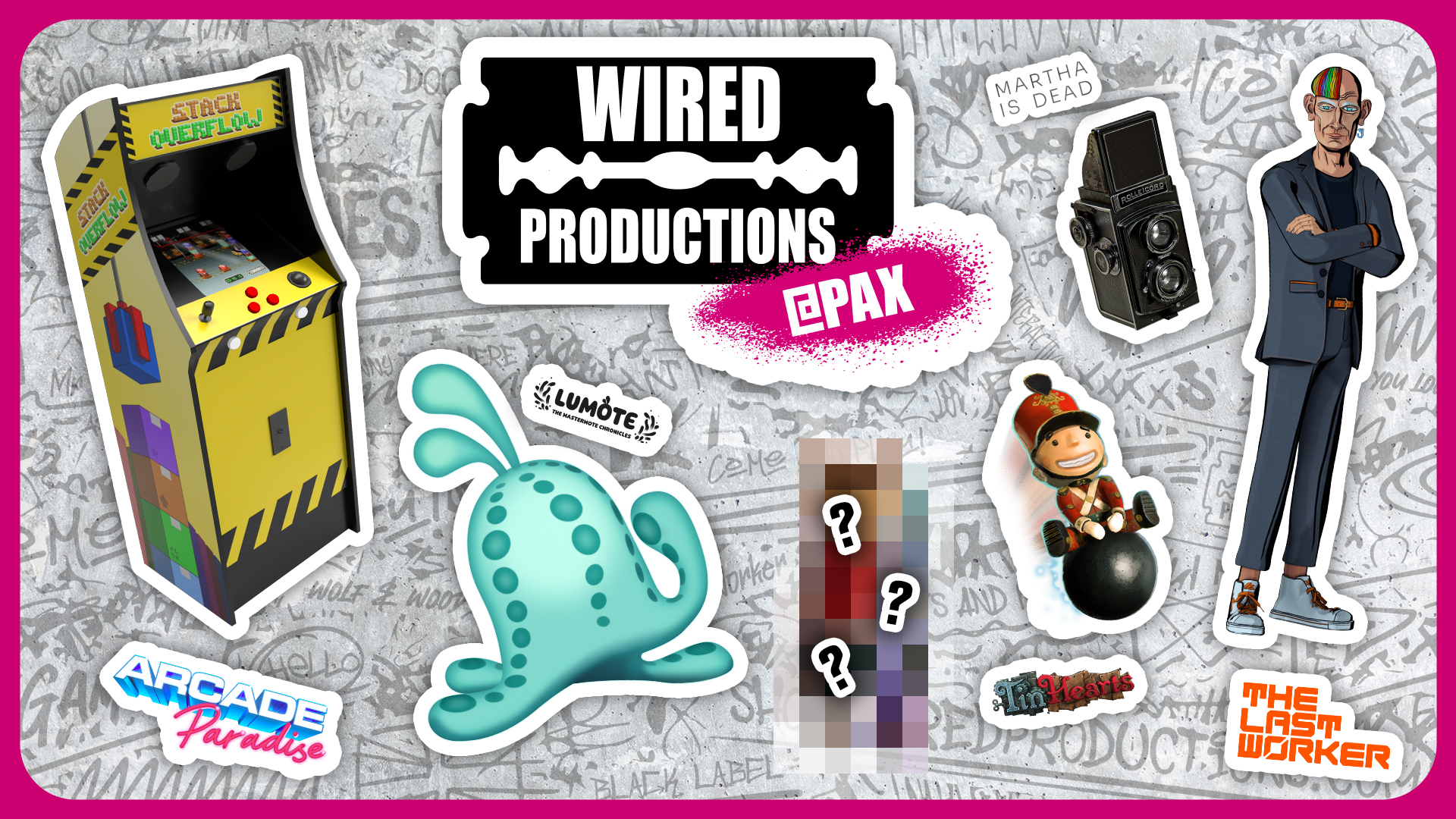 Watford, UK – 31st March, 2022 – Publisher Wired Productions today unveiled its eclectic line-up for PAX East (21-24 April, Boston, MA) which includes the world first hands-on with the highly anticipated narrative adventure The Last Worker, radical 90's management game Arcade Paradise and immersive and heartfelt puzzler game Tin Hearts. Visitors to the show can also get hands-on with the critically-acclaimed psychological thriller Martha Is Dead and a mysterious unannounced title. Furthermore, the beautifully bioluminescent puzzle platformer Lumote: The Mastermote Chronicles will be officially launching at the show.
If that wasn't enough, the indie publisher will be hosting a live recording of the Wired Unplugged Podcast at 4.30pm EDT on Friday 22nd April in the Arachnid Theatre. Hosts Jake Kulkowski and Aaron Cooper will be joined by Wired Productions CEO Leo Zullo, Good Vibes Gaming co-founder Ash Paulsen, and a host of indie game developers to discuss how Wired works intimately with its development partners.
Attendees can check out the Wired Productions electrifying lineup at 14030, in the heart of the PAX show floor, found alongside the main corridor. Further details on all titles can be found below.
Wired Productions at PAX East – Showfloor Lineup

Unannounced Title (???)
Stay tuned to Wired Productions Twitter for more information on this mystery title in the run up to PAX East. We ain't kitten when we say you won't want to miss this one.
The Last Worker (Jörg Tittel, Oiffy, and Wolf & Wood)
The Last Worker is a first person narrative adventure centred around our struggle in an increasingly automated world. Combining a hand crafted art style with uniquely immersive gameplay mechanics in an epic setting, The Last Worker delivers an emotional, thought provoking and comedic story packaged with rich characters performed by an all-star cast.
Find more information on The Last Worker at WiredProductions.com
Arcade Paradise (Nosebleed Interactive)
Arcade Paradise is a 90's-fuelled retro arcade adventure. Rather than washing rags for a living, you decide to turn the family laundromat into the ultimate arcade. Play, profit and purchase new arcade machines, with over 35 to choose from, to build your very own Arcade Paradise!
Find more information on Arcade Paradise at WiredProductions.com
Tin Hearts (Rogue Sun)
Behind every brilliant invention, hides a magical story. From members of the team that brought you Fable, comes Tin Hearts – an immersive puzzle adventure game wrapped in a powerful tale of love and compromise.
Find more information on Tin Hearts at WiredProductions.com.
Lumote: The Mastermote Chronicles (Luminawesome Games)
Lumote: The Mastermote Chronicles is a beautiful 3D puzzle platformer. Squish, bop and bounce through the Great Depths, an underwater world filled with Motes; bioluminescent creatures who spend their lives deep in the Bioverse, living on the rhythms of an electronica soundscape.
Martha Is Dead (LKA)
Martha Is Dead is a critically acclaimed dark first-person psychological thriller, set in 1944 Italy, that blurs the lines between reality, superstition and the tragedy of war.
Find more information on Martha Is Dead at WiredProductions.com
Follow us on Twitter, join the official Discord or visit: https://wiredproductions.com/
Note to Editors:
Bespoke press sessions are available for all titles, while developer interviews can be booked for The Last Worker, Arcade Paradise, Tin Hearts and the exciting, mysterious unannounced title. To schedule an appointment please contact wired@deadgoodmedia.com.
Media Enquiries:
Wired Productions
Tegan Kenney | press@wiredproductions.com
Dead Good PR for Wired Productions
###
About Wired Productions
Wired Productions is an independent video games publisher based in Watford, UK. Wired has produced and published award-winning titles across all major platforms and its games are curated to deliver on its mantra: 'Driven by Passion.' Bringing games to market in both physical and digital media, notable launches to date include Martha Is Dead, The Falconeer, Those Who Remain, Deliver Us The Moon, Close to the Sun, GRIP: Combat Racing, Victor Vran: Overkill Edition, Max: The Curse of Brotherhood and The Town of Light. Recently, Wired Productions announced its upcoming slate of titles during Wired Direct. Upcoming titles include Lumote, Arcade Paradise, Martha Is Dead, Tin Hearts, Tiny Troopers: Global Ops and The Last Worker.
Join the Wired community via: Wired Live | Twitter | Discord | YouTube | Twitch