Wired Productions Summer of Indie Gaming Continues with Brand-New Gameplay Trailer for Tin Hearts
Wed 15 Jun, 2022
---
Tin Hearts and The Last Worker Demo available now
as part of Steam Next Fest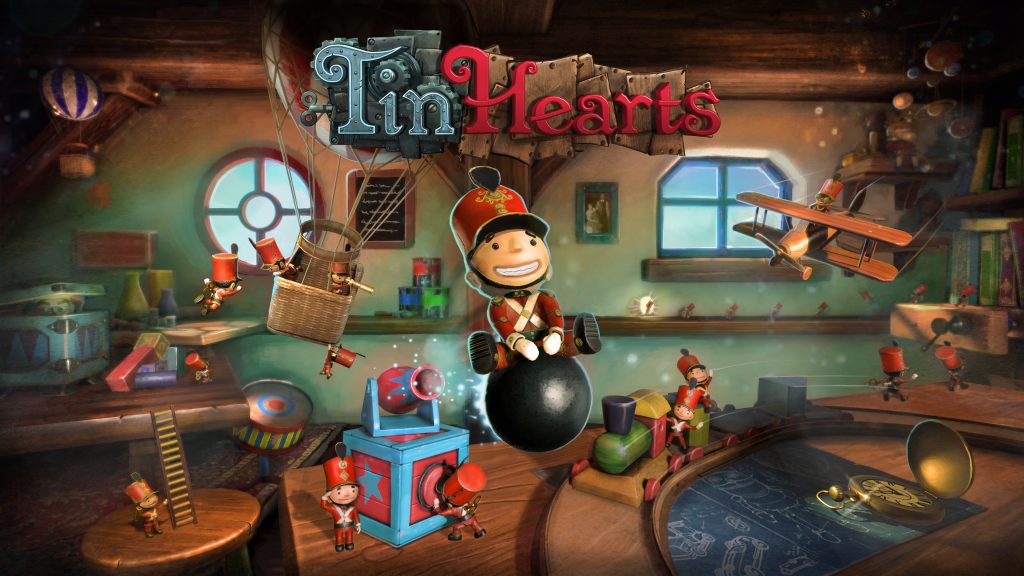 Watford, UK, 15th June, 2022 – Publisher Wired Productions and crafters of artisanal interactive entertainment, Rogue Sun are pleased to unveil the exhilarating new trailer for the immersive puzzle adventure game, Tin Hearts. In addition, and as part of Wired's Summer of Indie Gaming, a Tin Hearts demo is available to play now via Steam during the Steam Next Fest. 
The Power Glove trailer, set to the rhythmic tune of 'Hall of the Mountain King', provides a glimpse into the world of Tin Hearts' brilliant Inventor, Albert Butterworth. Albert's eccentric creations come to life, journeying into the mechanical darkness of his steampunk basement workshop where we witness the devastating strength of The Power Glove.
Watch The Power Glove Trailer:
 
Tin Hearts is brought to life by the former members of the exceptionally talented Lionhead Studios development team, responsible for the critically acclaimed Fable series. Tin Hearts is an immersive puzzle adventure game set in an alternate-timeline Victorian universe, wrapped in a powerful tale of love and compromise.  
Tin Hearts will be released in 2022 on Steam, Epic Games Store, GOG, Nintendo Switch, PlayStation 4, PlayStation 5, Xbox One, Xbox Series X|S, PC VR and Meta Quest 2. 
Tin Hearts and The Last Worker demos are available now via the Steam Next Fest. 
Play the Tin Hearts Demo and Wishlist Now: https://store.steampowered.com/app/1831700/Tin_Hearts/ 
Play The Last Worker Demo and Wishlist Now: https://store.steampowered.com/app/1579280/The_Last_Worker/ 
With more news to be revealed throughout Wired's Summer of Indie Gaming, 2022 will see the launch of Arcade Paradise, Tin Hearts and The Last Worker. Indie fans can stay up to date with all of Wired's announcements via the Wired Productions Youtube Channel.
Media Enquiries
Tegan Kenney & Anastasia Denisova | press@wiredproductions.com 
###
About Wired Productions
Wired Productions is an independent video games publisher based in Watford, UK. Wired has produced and published award-winning titles across all major platforms and its games are curated to deliver on its mantra: 'Driven by Passion.' Bringing games to market in both physical and digital media, notable launches to date include Martha Is Dead, The Falconeer, Those Who Remain, Deliver Us The Moon, Close to the Sun, GRIP: Combat Racing, Victor Vran: Overkill Edition, Max: The Curse of Brotherhood and The Town of Light. Recently, Wired Productions announced its upcoming slate of titles during Wired Direct. Upcoming titles include Lumote: The Mastermote Chronicles, Arcade Paradise, Gori: Cuddly Carnage, Tin Hearts, Tiny Troopers: Global Ops and The Last Worker.
Join the Wired community via: Wired Live | Twitter | Discord | YouTube | Twitch
About Rogue Sun
Rogue Sun was formed in May 2016 soon after the closure of historic UK based Lionhead Studios. The founding team all worked on multiple Fable games together, and formed the studio out of a shared passion to create innovative, thoughtful and memorable gameplay experiences. Games with interesting mechanics, meaningful stories, beautiful aesthetics and multi-layered characters.