Arcade Paradise Trailer Reveals Ultimate Arcade Hits and Asks Players to Drop Coin with Pre-orders for a Physical Release!
Wed 8 Dec, 2021
---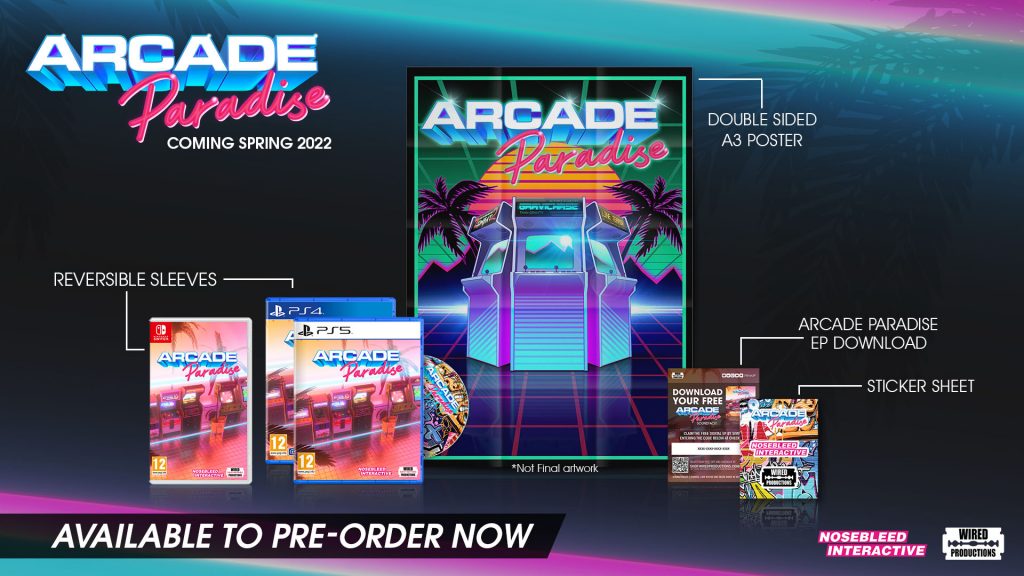 Enter a gaming paradise where there's zero sun and maximum fun!
Watford, UK, December 8th, 2021: Global video games publishing label Wired Productions and developer Nosebleed Interactive are stoked to drop a new trailer for the 90s adventure management game, Arcade Paradise. It's time for players to loosen those purse strings and get their quarters ready, as over 35 arcade 'hits' will feature in Arcade Paradise, which is heading to PC, Nintendo Switch, PlayStation 4, PlayStation 5 and the family of Xbox devices in Spring 2022. To celebrate the trailer, Wired have also dropped physical versions for the PlayStation 5 and Nintendo Switch, available to Pre-order today!
Welcome to Arcade Paradise, the 90s-fuelled retro arcade adventure. Playing as Ashley, your father, Gerald (voiced by The Witcher's Geralt, Doug Cockle), has gone to the Riviera and given you the keys to his laundry business tasking you to run the tedious day-to-day. Rather than washing rags for a living, you decide to turn the family laundromat into the ultimate arcade. Play, profit and purchase new arcade machines, with over 35 to choose from, inspired by a generation of Arcade games from the 80s and 90s. Arcade Paradise will feature newly created 'classics' such as Knuckles and Knees, Zombat 2, Woodgals Adventure, Vostok 2093, Gravichase and the bodacious Racer Chaser in FULL 3D and many more.
Get your face melted by insane graphics, experience skull shaking extreme stereo sound as you smash your rivals, dominate the high score table and become a legend. But don't forget, there's still the matter of a laundromat to run! Arcade Paradise is coming to Nintendo Switch, PC, PlayStation 5, PlayStation 4, Xbox Series S|X, and Xbox One during Spring 2022. Wishlist on Steam, Epic Games Store, or GOG. Pre-order the physical version, packed with a folded double-sided poster, graffiti sticker set, reversable King Wash sleeve and digital EP download. Priced at £19.99 / $24.99 / €24.99 for the PlayStation copies and £24.99 / $29.99 / €29.99 for Nintendo Switch, players can secure their copy via the Wired Store or by finding a local retailer here.
###
About Wired Productions
Wired Productions is an independent video games publisher based in Watford, UK. Wired has produced and published award-winning titles across all major platforms and its games are curated to deliver on its mantra: 'Driven by Passion.' Bringing games to market in both physical and digital media, notable launches to date include The Falconeer, Those Who Remain, Deliver Us The Moon, Close to the Sun, GRIP: Combat Racing, Victor Vran: Overkill Edition, Max: The Curse of Brotherhood and The Town of Light. Recently, Wired Productions announced its upcoming slate of titles during Wired Direct. Upcoming titles include, Lumote, Arcade Paradise, Martha Is Dead, Tin Hearts, Tiny Troopers: Global Ops and The Last Worker.
Join the Wired community via: Wired Live| Twitter | Discord | YouTube |Twitch
About Nosebleed Interactive
Nosebleed Interactive is a multi-award-winning independent studio based in Newcastle upon Tyne, in the heart of the North East of England. After critical hit Vostok Inc., Nosebleed are working Arcade Paradise as their next hit title.
https://www.nosebleedinteractive.com/
Contact
Wired Productions
Tegan Kenney | PR Executive
Dead Good PR for Wired Productions