BAFTA Games Nominated The Falconeer Soars to New Heights With Limited Edition Double Vinyl
Tue 2 Nov, 2021
---
Wired Productions and Limited Run Games on cloud nine as Pre-Orders for The Falconeer Double Vinyl go live, with two exclusive tracks.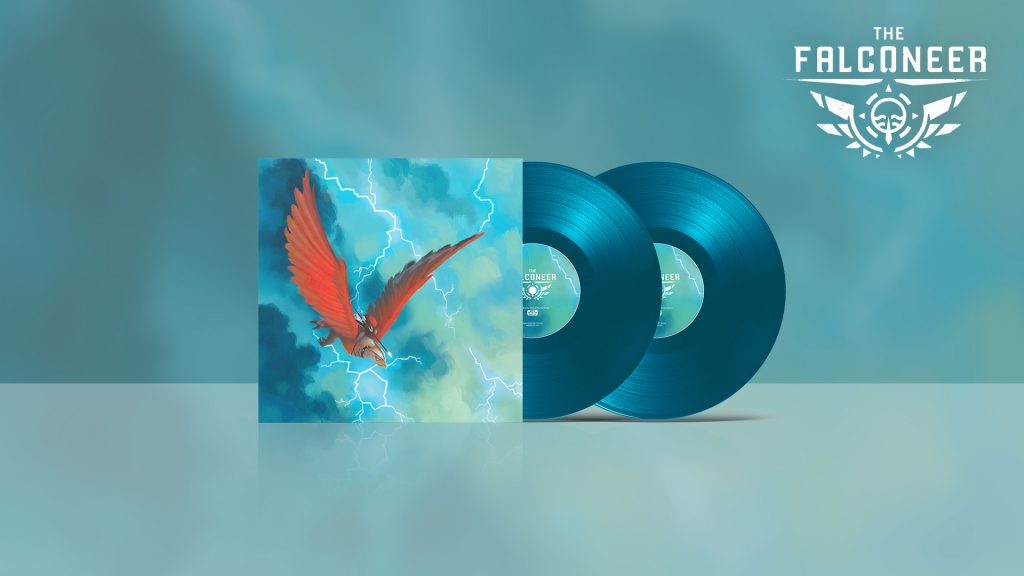 Watford UK, 2 November 2021. Global video games publisher Wired Productions and Limited Run Games are flying high as they announce that the first in an exclusive range of vinyl soundtracks, The Falconeer Double Vinyl, is available to pre-order now. With a limited release of 1,000 pressings, The Falconeer Double Vinyl soundtrack features the nuanced and dynamic soundscapes of award-winning composer, Benedict Nichols.
Pre-order the new double Vinyl here (UK & EU): https://shop.wiredproductions.com/collections/soundtracks/products/the-falconeer-vinyl-soundtrack-2xlp
Pre-order the new double Vinyl here (NA): https://limitedrungames.com/collections/wired-productions
The Falconeer Double Vinyl is the first release in an exclusive range as Wired Productions spread their wings into the world of publishing vinyl soundtracks, featuring the striking, original artwork of the talented vinyl artist Haley 'Bbanditt' Wakefield. Meticulously crafted with collectors in mind, the premium Double Vinyl is limited to 1,000 pressings, with 500 in 'Azure Blue' available exclusively from the Wired store for the UK and European markets, and 500 in 'Sea Green' unique to Limited Run Games for the North American market. Mastered by Benedict Nichols, the Limited-Edition Double Vinyl also features two exclusive tracks, which (in true, collectors' fashion) are not available anywhere else:
Atun's Folly (bonus track)
The Door to Nowhere (bonus track) (feat. Tegen Hitchens)
Representing a celebration of the music, art and the game's maverick solo developer, Tomas Sala, The Falconeer Double Vinyl is an eclectic cathedral of a soundtrack, which invokes the dual nature of The Falconeer; the transcendental waters versus the frenetic and high-energy of aerial combat.  Featuring handpicked tracks from both Tomas Sala and distinguished composer Benedict Nichols, avid listeners will be transported to the beautiful yet often turbulent Great Ursee on a monumental journey featuring razor-edge synthesizers and organs, the sounds of Mongolian throat-singing, Balkan choirs, bagpipes, and cimbalom with performances by Tegen Hitchens, Mikee Goodman, and Carolina Styles.
"The music of The Falconeer is an epic masterwork by Benedict Nichols and is such a huge part of the experience within the game" said Tomas Sala, Solo Developer, "Beautiful and frenetic, I can't wait for people to listen to the soundtrack on Vinyl".
"I'm delighted that The Falconeer is getting the Deluxe Vinyl album treatment" said composer Benedict Nichols, "It has been an honour to join Tomas on this journey through the Great Ursee, and to create such an impactful soundtrack for players to enjoy".
The Falconeer gatefold sleeved Double Vinyl soundtrack is available to pre-order now from the Wired Productions store for £34.99 and Limited Run Games for $44.99.
For more information, visit TheFalconeer.com, chat on Twitter or join the official Discord.
About The Falconeer
The Falconeer is an extraordinary work of personal expression and left field game design, from maverick solo developer Tomas Sala, featuring intense aerial dogfights aboard a giant warbird, deep exploration of a mysterious oceanic world, a beautifully original art style, epic set pieces, award-winning music, and richly immersive storytelling.
To request a review sample of The Falconeer – OST and interview requests with Tomas Sala or Benedict Nichols, please contact:
Dead Good PR for Wired Productions:
About Wired Productions
Wired Productions is an independent video games publisher based in Watford, UK. Wired has produced and published award-winning titles across all major platforms and its games are curated to deliver on its mantra: 'Driven by Passion.' Bringing games to market in both physical and digital media, notable launches to date include The Falconeer, Those Who Remain, Deliver Us The Moon, Close to the Sun, GRIP: Combat Racing, Victor Vran: Overkill Edition, Max: The Curse of Brotherhood and The Town of Light. Recently, Wired Productions announced its upcoming slate of titles during Wired Direct. Upcoming titles include, Lumote, Arcade Paradise, Martha Is Dead, Tin Hearts, Tiny Troopers: Global Ops and The Last Worker.
Join the Wired community via: Wired Live |  Twitter | Discord | YouTube | Twitch
About Tomas Sala
BAFTA nominated Tomas Sala is an independent game artist and designer as well as the co-founder of game studio Little Chicken Game Company. known to most gamers for his exotic Skyrim Mod series: Moonpath to Elsweyr, Tomas has developed a unique visual style over the years that have helped turn helped turn games such as Rekt! (iOS/Switch), SXPD (iOS) and TrackLab (PSVR) into unique visual and interactive experiences, before creating the critically acclaimed The Falconeer.
About Benedict Nichols
Award-winning composer and sound designer Benedict Nichols has gained critical acclaim for his scores to video games and trailers. Based in Southampton, United Kingdom, Benedict has focused on video games for over 13 years, his recent original soundtracks include OMNO, Before We Leave, and BAFTA-Nominated The Falconeer.