Details Revealed for Extensive New Expansion: Edge Of The World for BAFTA Nominated The Falconeer lands August 5th, 2021.  
Thu 15 Jul, 2021
---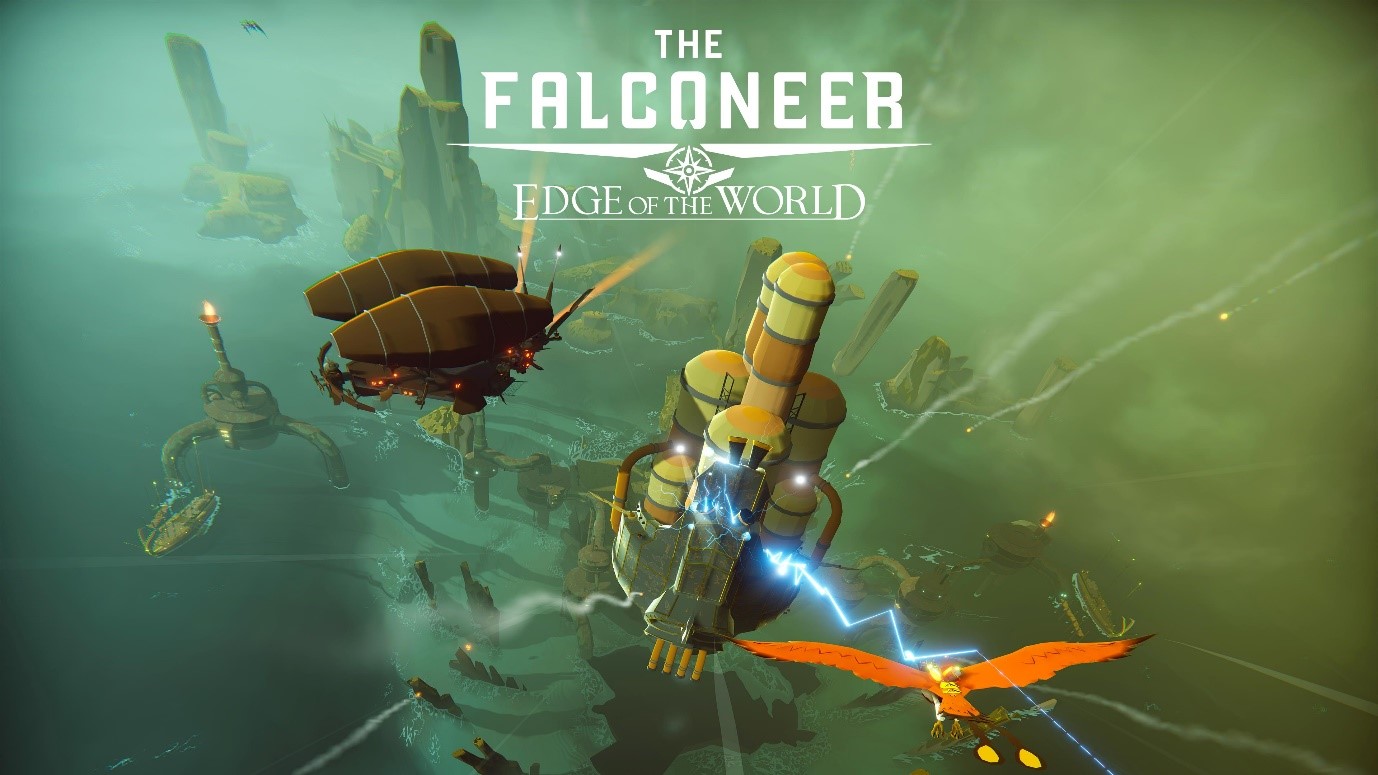 Watford UK, 15th July, 2021. Video Games Publishing Label Wired Productions and visionary independent developer Tomas Sala are pleased to unveil Edge of the World, a significant new expansion for The Falconeer for PC and the Xbox family of devices, releasing alongside The Falconeer: Warrior Edition for PlayStation 5, PlayStation 4, and Nintendo Switch on August 5th, 2021.   
Watch the Edge of the World trailer: 
As Tomas Sala and Wired continue to create more expansive content for players, Edge of the World features three brand new mini campaigns accompanied by nine new missions. Visit the exotic Mongress Mawsprings, exclusive to Edge of the World, discover ancient installations and uncover the fate of expeditions thought lost long ago, or assist an eccentric client to recover an ancient relic, while combating a deep and archaic evil.  
The Edge of the World expansion also reveals two exclusive Legendary Ace classes and mounts. Ascend as the Arbiter who flies on the back of a Fenix, or soar over the Great Ursee as a Corsair aboard a prehistoric Pteron. Take to the skies and unleash the Imperial Shocklance, an electric weapon with the ability to eliminate multiple enemies at once.  
Edge of the World also sees an increase of the level cap from 20 to 24 through the various ancient items that can be discovered throughout the Great Ursee.  
Tomas Sala, Developer of The Falconeer commented, "I've dreamed of having The Falconeer on both PlayStation and Nintendo Switch for a long time. On August 5th, DREAMS COME TRUE." 
"We are delighted to bring The Falconeer to a whole new audience of PlayStation and Nintendo Switch fans", said Leo Zullo, Managing Director, Wired Productions. "On August 5th, there is something available for everyone. Players will be delighted with the Edge of the World expansion, with a whole host of new campaigns and locations to explore. Edge of the World promises to be a truly mesmerizing experience." 
The Edge of the World DLC will be available to purchase for the Xbox family of devices on the Microsoft Store and for PC via Steam for £6.99 / $7.99 / €7.99. The expansion will also be available as part of The Falconeer: Warrior Edition, releasing on PlayStation 5, PlayStation 4, and Nintendo Switch.  
The Falconeer: Warrior Edition will be available to buy at retail for PlayStation 5, PlayStation 4, for £24.99 / €29.99 / $29.99, and Nintendo Switch for £29.99 / €34.99 / $34.99 and can be purchased from all good retailers worldwide. Find out where to buy your copy on the Wired Productions store. For Nintendo Switch owners, The Falconeer: Warrior Edition is also available to pre-order now on the eShop, priced at £24.99 / $29.99 / €29.99.  
The Falconeer is an extraordinary work of personal expression and left field game design, from maverick solo developer Tomas Sala, featuring intense aerial dogfights aboard a giant warbird, deep exploration of a mysterious oceanic world, a beautifully original art style, epic set pieces, award-winning music, and richly immersive storytelling. 
For more information, visit TheFalconeer.com, chat on Twitter or join the official Discord. 
 ### 
About Wired Productions 
Wired Productions is an independent video games publisher based in Watford, UK. Wired has produced and published award-winning titles across all major platforms and its games are curated to deliver on its mantra: 'Driven by Passion.' Bringing games to market in both physical and digital media, notable launches to date include The Falconeer, Those Who Remain, Deliver Us The Moon, Close to the Sun, GRIP: Combat Racing, Victor Vran: Overkill Edition, Max: The Curse of Brotherhood and The Town of Light.
Recently, Wired Productions announced its upcoming slate of titles during Wired Direct. Upcoming titles include, Lumote, Arcade Paradise, Martha Is Dead, Tin Hearts, Tiny Troopers: Global Ops and The Last Worker.
Join the Wired community via: Wired Live| Twitter | Discord | YouTube |Twitch  
About Tomas Sala 
Bafta Nominated Tomas Sala is an independent game artist and designer as well as the co-founder of game studio Little Chicken Game Company. known to most gamers for his exotic Skyrim Mod series: Moonpath to Elsweyr, Tomas has developed a unique visual style over the years that have helped turn helped turn games such as Rekt! (iOS/Switch), SXPD (iOS) and TrackLab (PSVR) into unique visual and interactive experiences, before creating the critically acclaimed The Falconeer.