The Cat's Out The Bag! Wired Productions Partner with Angry Demon Studio to Publish Gori: Cuddly Carnage
Thu 14 Apr, 2022
---
 Pawsome debut trailer showcases the cutest murder-kitty in action; Get exclusive hands-on at PAX East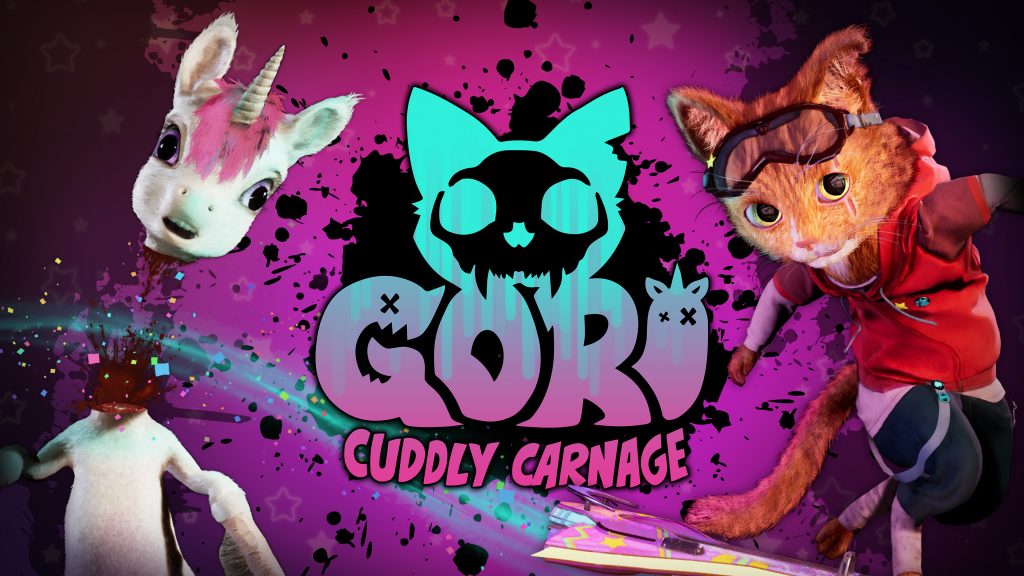 Watford, UK – 14th April, 2022 – Publisher Wired Productions and Angry Demon Studio (Apsulov: End of Gods) today announce a publishing partnership for the cuddly, ultraviolent skate-slasher Gori: Cuddly Carnage. Visitors to PAX East can get their bloody paws on the game next week by dropping by the Wired Productions booth at 14030, at the heart of the show floor. The game is available to Wishlist on Steam today.
A brand new trailer introduces the outlandish world of the purr-fect pet, Gori, and showcases a glimpse of the game's unique brand of ultra-fast, cutesy, blood-soaked combat.
Watch the Announce Trailer:
Gori: Cuddly Carnage is a fast paced, third-person skate-and-slash which sees players slice creepy toys and dice mutated unicorns as a murder-kitty on a death-dealing hoverboard!
A horde of mutated and blood-thirsty toys known as The Adorable Army has wiped out all humans and laid waste to everything on Earth that wasn't cute or cuddly enough to join its ranks. Only Gori – the most adorable and badass cat in the world,- a sentient, razor-sharp hoverboard, F.R.A.N.K and modular AI CH1-P, can stop the carnage of the Adorable Army and its dark leaders.
Gori: Cuddly Carnage Features
Fast-paced, third-person skate-and-slash carnage.
A futuristic world tainted by the Adorable Army.
Immersive (and very cute) environments.
Adaptable music that reacts to your actions and playstyle.
Intense destruction, brutal combat, and a whole world to smash to bits.
"We're thrilled to have teamed-up with the ludicrously inventive and wonderfully talented Angry Demon on the absurdly brilliant Gori." Said Leo Zullo, Managing Director at Wired Productions "When they showed me the demo there was only one reaction… F*&K YEAH. A super cool Cat on a hoverboard doing combis and chopping off unicorn heads!? I mean, come on! The team have such energy it is infectious and it oozes throughout the game. Love it!"
"We are feline great about our partnership with Wired Productions who have, from the very start, been so passionate about our murderous kitty, Gori." Said John Kalderon, CEO at Angry Demon Studio. "We can't wait to continue the journey of Gori, F.R.A.N.K and CH1-P alongside Wired, as we bring the game to a whole new level!"
Further information about Gori: Cuddly Carnage will be revealed throughout the coming months.
For more information, visit: https://wiredproductions.com/games/gori-cuddly-carnage/
Media Enquiries
Wired Productions
Tegan Kenney | press@wiredproductions.com
Dead Good PR for Wired Productions
About Wired Productions
Wired Productions is an independent video games publisher based in Watford, UK. Wired has produced and published award-winning titles across all major platforms and its games are curated to deliver on its mantra: 'Driven by Passion.' Bringing games to market in both physical and digital media, notable launches to date include Martha Is Dead, The Falconeer, Those Who Remain, Deliver Us The Moon, Close to the Sun, GRIP: Combat Racing, Victor Vran: Overkill Edition, Max: The Curse of Brotherhood and The Town of Light. Recently, Wired Productions announced its upcoming slate of titles during Wired Direct. Upcoming titles include Lumote: The Mastermote Chronicles, Arcade Paradise, Gori: Cuddly Carnage, Tin Hearts, Tiny Troopers: Global Ops and The Last Worker.
Join the Wired community via: Wired Live | Twitter | Discord | YouTube | Twitch
About Angry Demon Studio
Angry Demon Studio is an independent game developer based in Skövde, Sweden, focused on creating high-quality, adrenaline-filled experiences and pushing the boundaries of what's possible in small-scale game dev. Its debut title Unforgiving – a Northern Hymn was a hauntingly unforgettable slice of Nordic folk horror. The team explored these themes further with a striking vision of future viking terror in Apsulov: End of Gods, and is currently hard at work on the ultra-inventive, ultra-violent, ultra-cute skate-and-slasher Gori: Cuddly Carnage.
For more information, please follow ADS on Twitter or visit https://angrydemonstudio.com/